HOME- friends - cool - Chloe - clothes - flowers - scans
North Carolina - Georgia - Arizona - Texas - Virginia - Hawaii - Massachusetts - New York
The Heap - Contronautics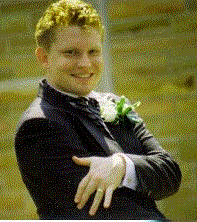 Andrew Siwko
Software Engineer
e-mail: asiwko@siwko.org
---
You can view my résumé from here or download a Microsoft Word version. Remember to right-click the link and choose save from the menu if you're going to download the Word document.
---
My wife

Naomi

and I have moved to Richmond from Dallas. I'm working in Virginia for Bank of America. I'm supporting WebSphere and Java bank wide (even on mainframes!) and am having a blast.
---
Friends Pages - Some of my friends have their own pages or manage pages. Here are some.
Cool Stuff - I've wandered around the web and built up a list of places I've found interesting. (Getting staler by the minute)
Software I've written at home for fun.
---
Ties that I wear - I captured images of some of the ties I wear.
Flowers in my yard - One day I went out in the yard and captured images of flowers.
Recent scans - I just got an HP ScanJet 3c. I've started scanning the many photo's I have.
Central Virginia Catholic Scouting
---
The web server I'm on now is run by AT&T broadband internet. They provide a pretty good (reliable, available, etc) 1500/300 access here in Richmond. I signed up in April of 2001 and it's only been down a handful of times, mostly DNS problems. I also have some content on siwko.org, but it's mostly for trying things out. While I was in Winston-Salem I used On-Line South as my ISP. In Atlanta I used America.Net. In Dallas we used Internet America. Here in Richmond, we switched from MCI Internet to Erols on a friend's recommendation. MCI's service and support was barely worh the $5 discount on long distance service. I've never had a connection dropped so many times or so many billing errors. Internet America was the one ISP that had good technical support. Erols has been pretty good. They did a dirty on the signup though. I was told by the salesman that I would not receive their free ($4.95) software and would not be charged. They sent it and charged me and when I called them they basically said tough, we can't take it back. The best they would do was add some free time onto the end of my contract. It didn't quite make up for it and the hassle was not appreciated. Their service has been quite good compared to the horrible MCI service. RCN bought Erols a while back and this year (2001) they've jacked up the price a bit. Erols turned out to be a good performer over the last few years, but finally, we've subscribed to mediaone. The first few days have been very nice even though the speed varies from 90 to 1,000K. This beats the 26.4K we can get over the Verizon copper to the house. AT&T bought out mediaone and the speed has improved (new boundary routers I hear). The service has been good for 18 months (end of 2002). After 8 years of service, RCN is migrating content off the ultranet equipment. As they're not guaranteeing the domain will continue, I'm migrating off ultranet.
---
11 Dec 2002 17:05 -0500
---